Chief Minister YS Jagan Mohan Reddy has announced a new scheme named AP YSR JalaKala Scheme 2021. It is a part of Navaratnalu which is a combination of nine schemes promised by the YSR Government during election campaign. If you desire to know more about the scheme then you should have a look on the further stated content.In this article you will get all the necessary information about the scheme such as what the scheme is, how is it beneficial, how you can apply for it and more.
AP YSR Jalakala Scheme 2021
YSR Jala Kala Scheme has been launched for the farmers. Under this scheme the government is going to construct free borewells for the farmers. The main aim of the government is to solve the irrigation problem of the farmers. Government is going to spend an amount of Rs 2,340 crore in four years for this scheme. Government is planning to drill 2 lakhs borewells to enable groundwater irrigation in 13 districts of the state.
Key Highlights Of This Scheme
| | |
| --- | --- |
| Name of the scheme | AP YSR JalaKala Scheme 2021 |
| Launched by | Chief Minister YS Jagan Mohan Reddy |
| Launched for | Farmers |
| Launched in | Andhra Pradesh |
| Launched on | 28 September 2020, Monday |
| Department | Panchayat raj and Rural Development Department |
| Mode of application | Online |
| Official website | ysrjalakala.ap.gov.in |
Free borewell drill for needy farmers in 13 districts of the state
Ground water level surveys shall be conducted and identified scientifically the place to drill borewell at sites
Small & marginal farmers and SC / ST / Women farmers will get preference
Applicant will get information regarding the sanction of borewell at each stage via SMS
It is a 100% government funded scheme
Depth of borewell drilled and depth of casing will be measured with advanced IoT enabled equipment
For effective implementation of the scheme, a programme management unit (PMU) will be set up at headquarters and District Collectors will guide & direct all the stakeholders
AP YSR JalaKala Scheme 2021 Eligibility conditions
Applicant must be a farmer or a group of farmers
The Applicant must be a permanent resident of AP
Aspirants should have landholding of 2.5 to 5 acres
Farmers must not have any existing borewell
Working procedure
Assigned drilling contractor will conduct ground water survey
Survey will be made by engaging qualified geologist
Thereafter feasibility report is to be submit to concerned APD / MPDO for generating estimate
PD will take administrative approval from District Collector / JC
Work to drilling borewell will start by the contractor.
After completion of work, Digital photograph with geo-tag will be taken by the concerned authorities in the presence of beneficiaries and drilling contractor
In case, a borewell fails, a second borewell will be drilled if feasible
Application procedure AP YSR JalaKala Scheme
To apply for the free borewell scheme farmers can visit official website for online application or go to village secretariat for offline application. In offline application, VRO will verify and forward the application to concerned APD / MPDO. To apply online follow the further mentioned steps:
Open the official website of the YSR Jala Kala Panchayat raj and Rural Development Department, Government of Andhra Pradesh
Hit apply for borewell option and a new web page will appear
Enter your Aadhar card number and you will receive and OTP on the mobile number registered with Aadhar
Enter the OTP and hit submit option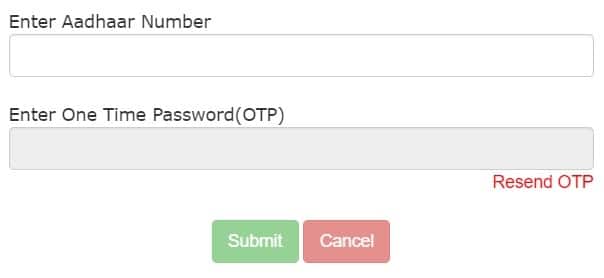 Form will appear on the screen, provide all the details as demanded in it
Submit the application after review the details
Helpline
Phone: 9121296053
Email: ysrjalakala.crd@gmail.com